Construction Fun!
Hands-on Activities for Your Children
At Michels we made a promise to take care of the needs of our customers, employees and friends during this pandemic. All of our needs are a little different than usual because schools are closed and kids are at home. We have created educational yet entertaining activities to keep your children busy while you continue to work on the tasks that you need to. New activities will be posted each month.
We do have one small request from you, though. We want to see what your kids learned about what we do so we are requesting that you take a picture of your child with the completed activity and email it to marketing@michels.us.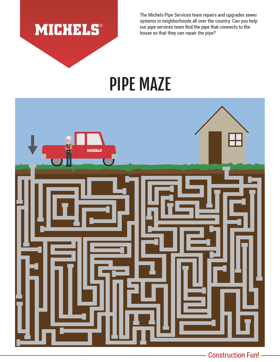 👉 Not sure what Pipe Services does? Take a look!
👉 Safety is extremely important to us! 👉 This is what we helped build - the Fiserv Forum!
👉 We have many different kinds of trucks!
👉 Learn about our Transportation crews.
👉 What types of jobs are there in the construction field?
👉 How do we stay safe after we put on our PPE? 👉 View our equipment in action. 👉 Click to see more equipment.
👉 Take a peek at our Corporate Social Responsibility report.
👉 Check out our equipment in action. 👉 We care about the environment. 👉 Backhoes are used in many of our projects.
👉 View our bridges. 👉 Learn about how we lead safely. 👉 This is how we contribute to the oil industry.
👉 We do that. 👉 Do you want to work in construction someday? 👉 Click here for a hint.